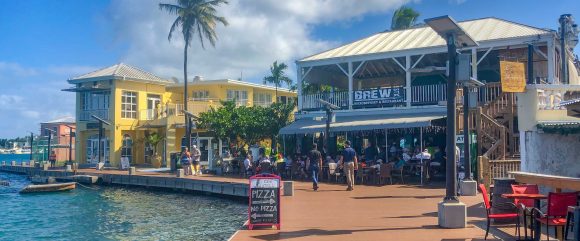 Our St Croix Restaurant Guide is a carefully curated list of the top restaurants across the island of St Croix. We've organized and made it searchable by region, category, and keyword so you can find that perfect bite. Try search terms like West Indian, food trucks, beach bar, bbq, or vegan. You'll then find the location on the map below. You can even click for easy driving directions! Looking for live music with your meal? Check out our StxCalendar.com
North Shore Road

,

North Shore, St Croix
Without a doubt one of my favorite spots on St Croix! Cooking up "good mood food" using fresh local ingredients from St.Croix's many farms and local fisherman. Be sure to try the blue cheese cheesecake (yep you read that right and don't miss it!!) or their teriyaki glazed edamame. Pair your meal with a glass of wine from their extensive list or try one of their signature cocktails like their twist on the Dark & Stormy.
About Our St Croix Restaurant Guide
Restaurants are open year-long, though some take a break in September or October during the hotter, slower season. We do our best to have accurate information at all times. That being said, we do recommend reaching out directly to the restaurant of your choice to make reservations.
Many of the island's chefs work with fresh, locally caught fish, tropical fruits, and locally grown greens. If you're looking for a culinary adventure, you've found it here in. Be sure to pay attention to the nightly specials! If you're planning a night in and want to use the same fresh ingredients, check out our St Croix Farm Stands guide.