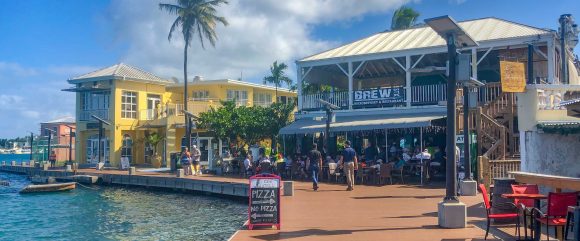 Our St Croix Restaurant Guide is a carefully curated list of the top restaurants across the island of St Croix. We've organized and made it searchable by region, category, and keyword so you can find that perfect bite. Try search terms like West Indian, food trucks, beach bar, bbq, or vegan. You'll then find the location on the map below. You can even click for easy driving directions! Looking for live music with your meal? Check out our StxCalendar.com
Mahogany Road

,

Frederiksted, St Croix

00840
Join Norma and crew for a laid back breakfast and lunch at the Domino Club. Home to the 'Beer Drinking Pigs' the Domino  Club is a located in the heart of the rain forest and serves up the best Mama Wanna (a local rum concoction) on St. Croix.
If you only have time for a drink, buy the pigs a (non-alcoholic) beer and enjoy one yourself.
About Our St Croix Restaurant Guide
Restaurants are open year-long, though some take a break in September or October during the hotter, slower season. We do our best to have accurate information at all times. That being said, we do recommend reaching out directly to the restaurant of your choice to make reservations.
Many of the island's chefs work with fresh, locally caught fish, tropical fruits, and locally grown greens. If you're looking for a culinary adventure, you've found it here in. Be sure to pay attention to the nightly specials! If you're planning a night in and want to use the same fresh ingredients, check out our St Croix Farm Stands guide.